Cuentos con Carmen: English/Spanish Story Time
Wed,
Mar 15 | 10:30 am - 11:30 am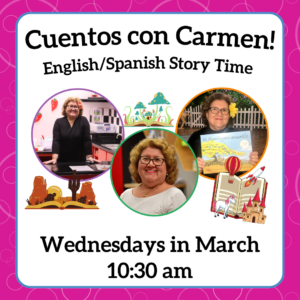 Enjoy stories read in English and Spanish by talented KidsPlay Board Member & Volunteer Carmen! Build ready-to-read skills in both languages.
Carmen will be at the Museum to read every Wednesday in March (3/1, 3/8, 3/15, 3/22, 3/29) at 10:30 am.
Program included with admission price.