December at KidsPlay!
December StoryWalk®:
Not a Box by Antoinette Portis
Cardboard Community at KidsPlay
Wednesday, November 30 through Thursday, December 22
Children and families are invited to build and contribute to KidsPlay's Mini-Cardboard Community display. Create buildings and townspeople to add to the growing town! This interactive display will be up until December 22 and will conclude with the Cardboard Community Celebration.
---
Tales with Humphry: The Nutcracker
Saturday, December 10 & Saturday, December 17 at 1 pm
Join us for readings of The Nutcracker by KidsPlay volunteer Humphry in costume! Hear the story before seeing it performed by the Nutmeg Ballet at the Warner Theatre.
---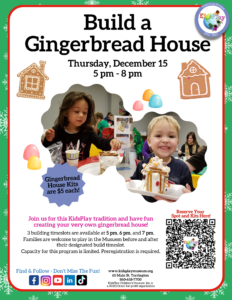 Build a Gingerbread House
Thursday, December 15 from 5 pm – 8 pm
Have fun creating your very own gingerbread house! 3 building timeslots are available at 5 pm, 6 pm, and 7 pm. $5 per gingerbread kit plus admission.
Registration is required.
---
Cardboard Community Celebration
Thursday, December 22 from 5 pm – 8 pm. Award ceremony at 6:30 pm
Come admire our finished Cardboard Community with cookies and hot chocolate! Awards will be presented to children who contributed to the display's growth.
---
Masked Playtimes Available
December 26, 27, 28, 30 from 9 am – 10 am
Taking extra precautions this busy holiday season? KidsPlay is offering masked required playtimes from December 26-28 and December 30 from 9 am – 10 am.
---
World Celebrations at KidsPlay
Monday, December 26 through Friday, December 30
KidsPlay is exploring world celebrations all winter break long! Join us as we investigate light, food, music, gifts, and games across different end-of-year celebrations around the globe. Themed activities and crafts available all day.
---
Countdown to Noon (and 4 pm!)
Saturday, December 31 at 10 am – 1 pm & 2 pm – 5 pm
KidsPlay's Countdown to Noon is back! Join us for activities, crafts, and noise makers as we wait to welcome in 2023 with the anticipated Balloon Drop. Two timed-entry countdowns are available with Balloon Drops at 12 pm and 4 pm.
Capacity is limited. Registration is required.