Spring Discoveries!
All winter long we wait for the joys that spring brings, spring is the season of new discoveries. Fresh flowers bloom, animals awaken from their hibernation and we're all ready to play. Discovering the wonders of our world, each child needs time to play, to explore, and to share with actions and words. Seeing the world through the eyes of a child, the weeks of April and spring are filled with discovery and a child's sense of play. Come and enjoy together!
View our April Calendar and Flyer !
Special Openings:
Monday, April 16, 10 am - 4 pm
Tuesday, April 17, 10 am - 4 pm
Family Night: Friday, April 20, 10 am - 7 pm
Big Ideas of the Week
April 2 to 8: Spring Detectives: Signs of spring
April 9 to 15: Baby Animals
April 16 to 22: Spring Break/April: The Week of The Young Child
April 23 to 29: We can be transformers causing changes: Reduce! Recycle! Upcycle!
April 30 to May 6: ME: How have I changed from baby then to me now. Who helped me grow?
---
Author Study: Bill Martin
Author Bill Martin was truly "America's favorite children's author." For almost 60 years Martin wrote a handful of the classic books that fill our children's shelves. He was the author of the classic text Brown Bear, Brown Bear, What Do You See? which was illustrated by his friend Eric Carle, as well as more than 300 other children's books. Martin also developed the literature-based reading programs Sounds of Language and The Instant Readers, predictable instructional materials to help children's literacy and reading levels excel. By having predictable books, children have the confidence to read above their level, therefore advancing faster. In addition to a his successful career as a children's author, Bill has worked as a schoolteacher, principal and textbook editor - all in spite of the face that he didn't learn to read until college. Join us this month as we celebrate this true legend and celebrate all his works have to offer!
Story Walk: Chicka Chicka Boom Boom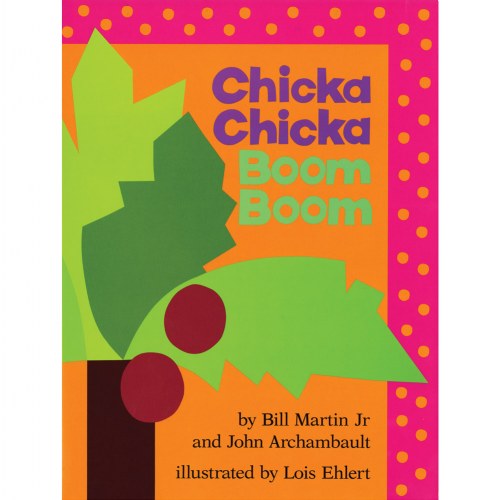 ---
Special Events
---
Spring Break
Monday, April 16 through Friday, April 20
KidsPlay is excited to be celebrating the National Association for the Education of Young Children's, "The Week of The Young Child." Spend your April "stay-cation" with us as we celebrate learning, young children, teachers and families! Special programs, storytimes, guests and activities all week! Come in and tackle our daily makerspace challenges!
Music Monday
Sing, Dance, celebrate, and learn through music.
Dance with rainbows - bring your favorite moves!
Special Guest @10:30 am- Nutmeg Ballet School
Come and dance with the Nutmeg Ballet. Enjoy a performance, try some steps, join the dance!
Tasty Tuesday
This fun, food themed days is about more than just cheese and crackers. Cooking together connects math with literacy skills, science, and more.
Pancake Party @ 10:30 am
Special Guest @ 11:15 - Join Brooker Memorial Dental Staff to discover how we taste!
Eat a Rainbow @ 12 pm
Dining with Monsters @ 2 pm
Work Together Wednesday
Work together, build together...learn together!
Join us for these special guests!
Teamwork activities with Torrington Railroad Club and a Camp Moe reunion.
Artsy Thursday
Show off your imagination and creativity. What can you create?
Special Guest @10:30 am - Judith McElhone
Judith McElhone, Executive Director of Five Points Gallery, will be leading a special child & caregiver art workshop. Following the program, join Judith in a free "field trip" to Five Points Gallery right down the road from KidsPlay!
Family Friday - Open Late -
Open 10 am - 7 pm
Engaging and celebrating families is at the heart of supporting our youngest learners. Work together on a family poster, enjoy a dance party, gather for story time, participate in game challenges and more!
Special Guest @ 5:30 pm
The Stupendously Wonderful Music Show: A Family Concert with singer-songwriter Susan Peak.
---
Child and Caregiver Weekly Programs
Wednesdays
10:30 am Wonder of Science
Let's be Curious and explore the wonders of our amazing world with special guests and hands-on activities.
12 pm Cuentos en Acción
Los niños y los cuidadores se participan en la diversión interactiva usando historias, canciones, y poemas como inspiración.
Thursdays
9:30 am Caregiver Circle
Meet, relax, and share while children engage in playful learning experiences in our program room.
April 5: Outdoor discoveries for children and families! It's fun and important to get outside!
April 12: How babies change our lives.
April 19: Artsy Thursday: Why is art important to young children? How can we encourage artistic expression?
April 26: Teaching children big words: dinosaur names and metamorphosis!
10:30 am Kids on Stage
Hop on the Stage for dramatic play inspired by the wonders of our world!
11 am Story and More!
Activities and stories to go with our special programs this month.
4 pm Keep on Reading
Reading is important and fun! Early literacy support, 20 minutes sessions. Please preregister.
Fridays
10:30 am Messy Art Studio
Using your imagination and our Big Idea of the Week, make messy creations using a variety of art mediums.
3 pm Tree House Tales
Stories in our Literacy Tree House's Story Nest. Can you guess who is coming to read?
Saturdays
11 am Join us for Step into a Story or Tree House Tales in our Story Nest
2 pm Maker Space Challenge
Categories